KD Sultan Dates Buy 1 Get 1 Free Each 500g
Weight:
1.0 kg
Regular price
Dhs. 13.30 AED
Regular price
Sale price
Dhs. 13.30 AED
Unit price
per
Sale
Coming Soon
Sultan Dates are extremely juicy Dates that boasts high amounts of antioxidants. Dates are good source of various vitamins and minerals. Dates are rich in Iron, great energy booster, good for healthy heart, good for bone health and strength.
Energy booster
Dietary fibre
Mineral rich
Zero transfat
Zero cholesterol
Ideal snack for weight watchers
Proudly produced right here in UAE, These exotic Arabian Dates are ideal to take home as a memory of your own very special middle eastern adventure. Share and savor your memories with every soft, chewy and crunch bite.

𝘋𝘢𝘵𝘦𝘴 𝘢𝘳𝘦 𝘢 𝘯𝘢𝘵𝘶𝘳𝘢𝘭 𝘳𝘦𝘴𝘰𝘶𝘳𝘤𝘦 𝘧𝘰𝘳 𝘯𝘶𝘵𝘳𝘪𝘵𝘪𝘰𝘯, 𝘪𝘵 𝘱𝘳𝘰𝘷𝘪𝘥𝘦𝘴 𝘵𝘩𝘦 𝘣𝘰𝘥𝘺 𝘸𝘪𝘵𝘩 𝘢 𝘩𝘪𝘨𝘩 𝘱𝘦𝘳𝘤𝘦𝘯𝘵𝘢𝘨𝘦 𝘰𝘧 𝘱𝘳𝘰𝘵𝘦𝘪𝘯𝘴, 𝘮𝘪𝘯𝘦𝘳𝘢𝘭𝘴 𝘢𝘯𝘥 𝘷𝘪𝘵𝘢𝘮𝘪𝘯𝘴 𝘸𝘩𝘪𝘤𝘩 𝘢𝘳𝘦 𝘤𝘰𝘯𝘴𝘵𝘳𝘶𝘤𝘵𝘪𝘷𝘦 𝘪𝘯𝘨𝘳𝘦𝘥𝘪𝘦𝘯𝘵𝘴 𝘧𝘰𝘳 𝘣𝘶𝘪𝘭𝘥𝘪𝘯𝘨 𝘶𝘱 𝘵𝘩𝘦 𝘣𝘰𝘥𝘺 𝘵𝘪𝘴𝘴𝘶𝘦𝘴 𝘢𝘯𝘥 𝘮𝘶𝘴𝘤𝘭𝘦𝘴.
Share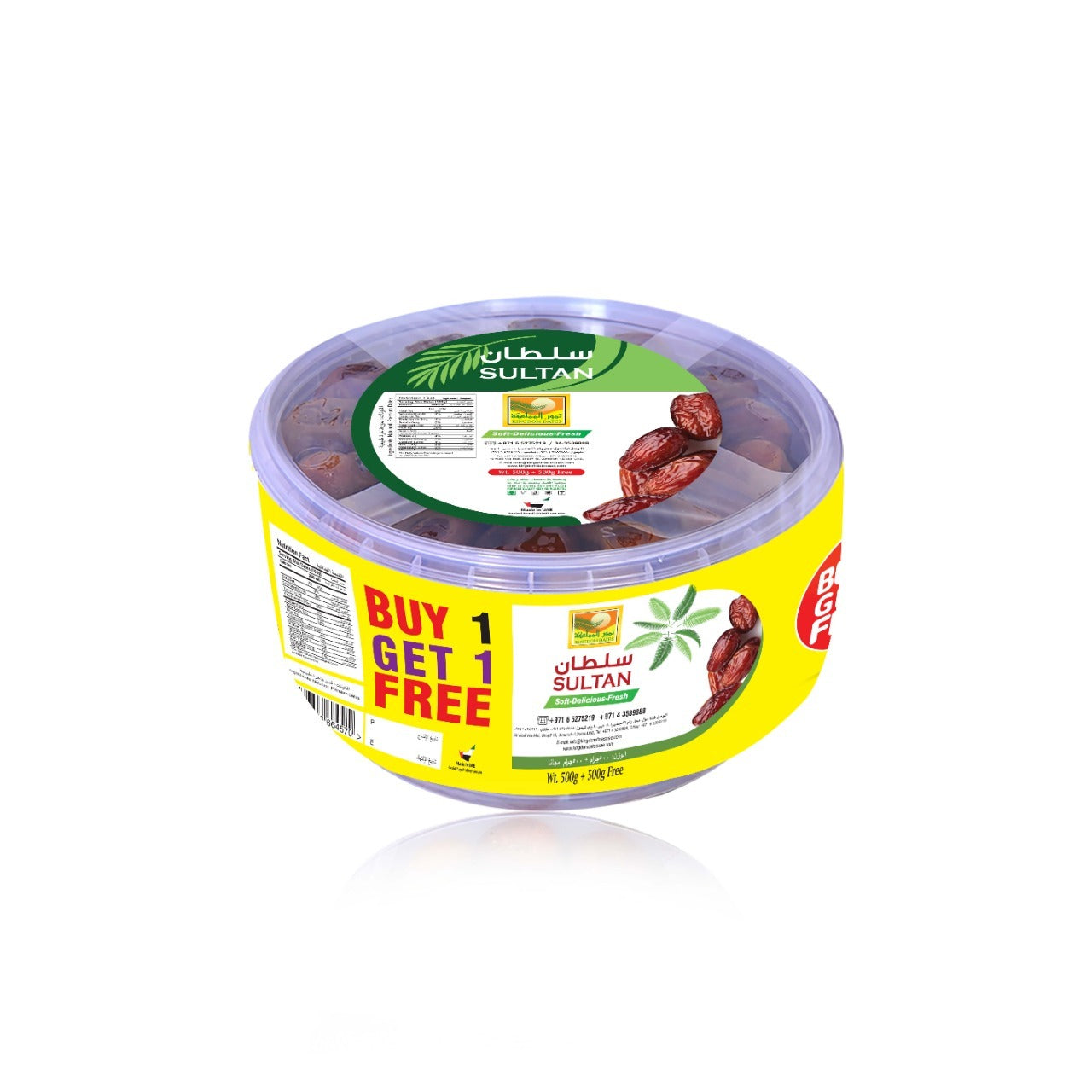 FOOD SAFETY CERTIFIED

We are fully compliant to all international quality and safety standards and also we are certified HACCP and ISO.

SECURE SHOPPING GUARANTEE

You're in safe hands. We guarantee that every online transaction you make will be 100% safe with kingdomdatesuae.com