KD Sukkari Dry Dates 3kg
Weight:
3.0 kg
Regular price
Dhs. 30.00 AED
Regular price
Sale price
Dhs. 30.00 AED
Unit price
per
Sale
Coming Soon
sukkari - Our impeccable organic sukkari dates have a creamy, sweet taste and feature a distinctively creased skin, making the ideal gift for that special someone.
Discover why the sukkari variety is also referred to as 'Royal Dates'
With their distinctive creased skin, sukkari dates benefit from a smooth, sweet taste and a surprisingly crunchy bite. Commonly referred to as the Royal Date, these cone shaped fruits are an especially popular gift option.

These dates derive their name from an Arabic word meaning "sweet". Although they do provide a beautiful, sweet flavour, sukkari dates are never overpowering. Perfect for celebrating special occasions, we also offer a great gift box service to complement these dates. An elegant gift box filled with Kingdom Dates's organic sukkari dates will surely take your loved ones on an intense flavour journey.
Available in both soft and hard varieties, this cone shaped date with prominent creases in yellow to dark gold skin is complemented by a mildly sugary flesh. When presented in its hard variety, the sukkari features crystallised sugars and offers a crisp, caramel flavour.

Sukkari dates are the favorite dates of the majority of people living in Saudi Arabia due to its health benefits, nutrition value and cheap price. These dates are the ideal snack. They are high in fiber, vitamins and nutrients. sukkari dates keep the skin healthy and mois
Nutritional Value
Dates are rich in fiber, carbohydrates, minerals, vitamin B complex, and proteins, offering almost all twenty amino acids.
They also contain calcium, iron, magnesium, and more potassium per weight than a banana.
Many of the nutrients in dates are essential for heart-health, nerve function, and promoting metabolic functions, and the vitamins found in dates are needed for building healthy muscle and body tissue
They have a mild sweetness but fierce health benefits. Jam-packed with fiber, potassium, copper and more
They are a healthy snack choice and are a rich source of energy, vitamins and minerals.
Sukkari are the 'Queen of Dates' that are known for their golden outer crust with soft, melt-in-your-mouth goodness inside. Sukkari, dates [Arabic translates to 'sugar'] are the perfect replacement to sugary sweets featuring crystallised sugars on the outer crust. Moist with gourmet caramel-like sweetness, these dates never need to be soaked. 
Share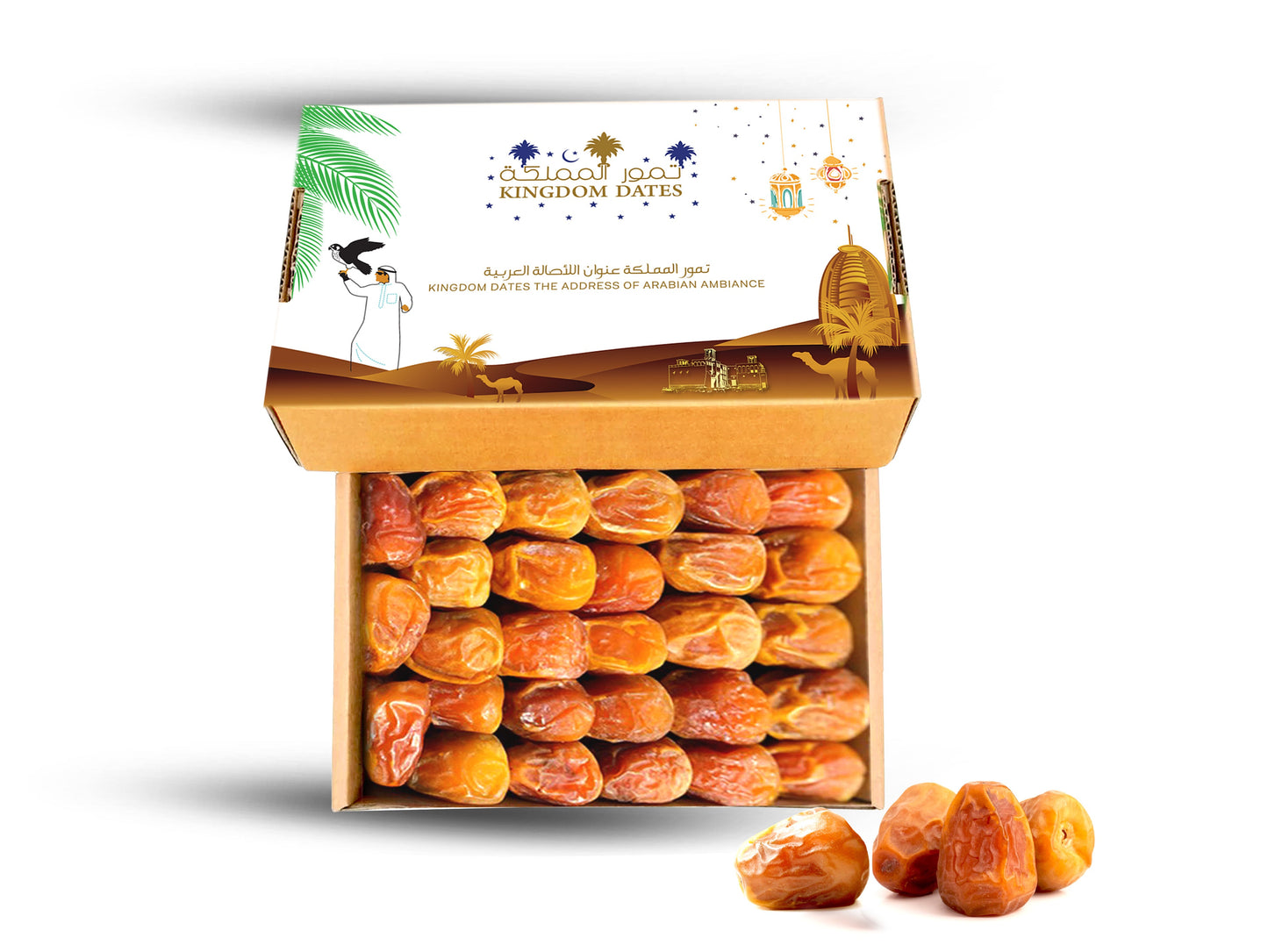 FOOD SAFETY CERTIFIED

We are fully compliant to all international quality and safety standards and also we are certified HACCP and ISO.

SECURE SHOPPING GUARANTEE

You're in safe hands. We guarantee that every online transaction you make will be 100% safe with kingdomdatesuae.com